Back to recipes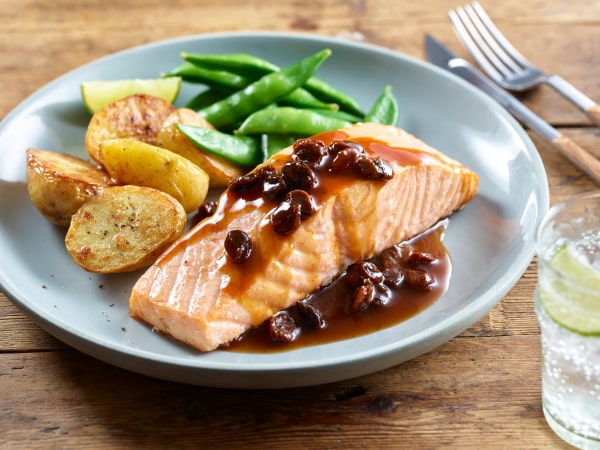 BAKED SALT-CURED SALMON WITH SWEET & SOUR CALIFORNIA RAISIN SAUCE
Ingredients
50g salt
4 salmon fillets
500g baby new potatoes, halved
25g butter
Sweet & sour sauce:
Juice 3 limes
25g caster sugar
300ml fresh chicken gravy or demi glace
1 tbsp honey
100g Californian Raisins
To serve: sugar snap peas
Method
Mix together 500ml water with the salt in a saucepan and heat until the salt dissolves, leave to cool. Add the salmon fillets and leave to cure for 1 hour.
Preheat the oven to 180ºC, gas mark 4.
Cook the potatoes in boiling water for 10 minutes, drain. Heat the butter and fry the potatoes for 3-4 minutes until golden brown, season.
Meanwhile, pat dry the salmon on kitchen paper and season. Place in a greased baking tray and roast for 15 minutes until just cooked throughout.
To make the sauce, heat the lime juice and sugar until it has reduced by half, then add the gravy, honey and raisins, simmer for 4-5 minutes and season.
Place the salmon on warm plates. Coat the salmon with the sauce and arrange the potatoes and sugar peas on the side.
Cooks tip
Serve with rice and stir fried vegetables instead of the potatoes.