Back to recipes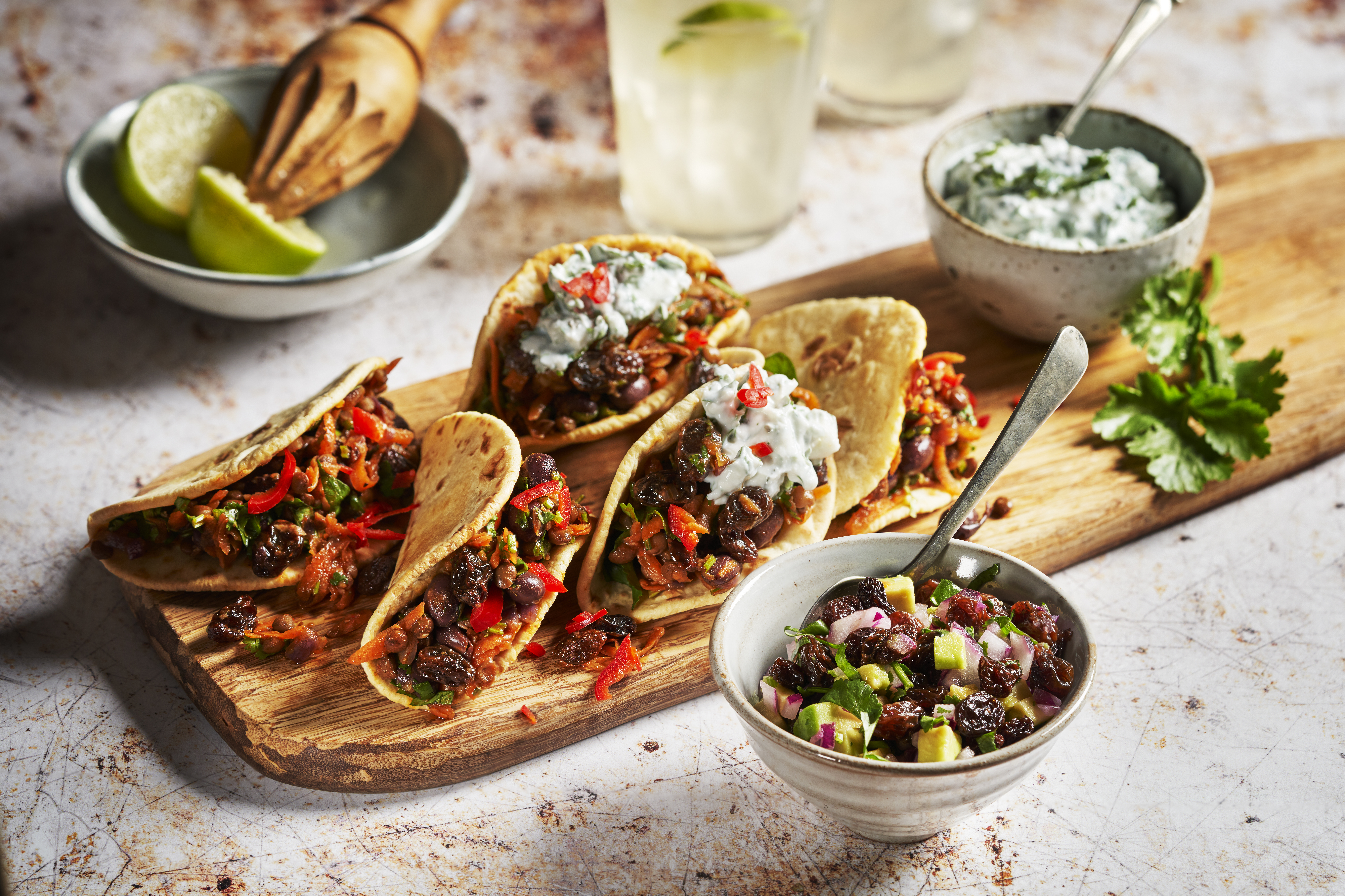 Smokey lentil, California raisin & black bean tacos with coriander yogurt, avocado, raisin salsa
Ingredients
FOR THE TACO
8 small corn or flour tortillas
FOR THE FILLING
1 medium red onion, peeled and finely chopped
1 garlic clove, peeled and crushed
2 large carrots, coarsely grated
400g can of green lentils, drained
100ml vegetable stock
1 tsp sweet smoked paprika
1 tsp ground cumin
1 tbsp chipotle paste
¼ tsp salt
¼ tsp coarsely ground black pepper
100g California raisins
400g can black beans, drained
Juice and zest of 1 lime
20g coriander, roughly chopped
For the salsa
30g California raisins
½ red onion, finely chopped
Small bunch coriander, roughly chopped
1 avocado, peeled and roughly diced
Juice of 1 lime
TO SERVE
30g fresh coriander
200g set Greek 0% fat yogurt
¼ tsp salt
¼ tsp coarse black pepper
2 limes, cut into wedges
1 red chilli, thinly sliced
Method
For the taco
Preheat the oven to 180c/fan 160c.
Place each tortilla wrap between the indents of two twelve- hole upturned muffin tins, so that each tortilla is in a taco shape. Bake for 10-12 minutes until slightly crisp and holding its' shape. Remove from the oven and leave to cool.
For the filling
Heat the oil in a medium frying pan. Add the onions and garlic and cook for 3-4 minutes until softened.
Add the carrots and cook for a further 2-3 minutes until slightly softened.
Add the remaining ingredients, except the lime juice, zest, black beans and coriander, cook for a further 8-10 minutes.
Add the remaining ingredients and cook for a further 1-2 minutes to warm through, remove from the heat and set aside.
For the salsa
Add all the ingredients to a bowl, mix well and season with a little salt and pepper, set aside until ready to serve.
To serve
Roughly chop the coriander and fold through the yoghurt, season with salt and pepper.
Spoon the warmed filling into each taco shell, top with the prepared salsa and spoon of coriander yoghurt, garnish with some chilli, serve with lime wedges.
Tip
The filling freezes well if stored in an airtight container